Maps
Park Location and Driving Directions
The interactive map to the right shows the location of Monticello Park. If you click on "Directions" and type your address, you will get directions for how to drive to the park. If you click on the map, the address/directions box in the upper left corner will disappear. You can get it back by reloading the page, or you can click the "View larger map" link to open a full Google map in a new tab, preloaded with the destination address.
Public Transportation
The closest Metro stop to Monticello Park is at Braddock Road, more than two miles away (at Braddock and North West Street). The Braddock Road station is on both the Blue and Yellow Lines. From the station, you can take a northbound Alexandria DASH Bus 103 or 104. (Both buses leave from Bus Bay A.) These buses run only on weekdays -- there is no service on weekends. The 103 travels up Russell Road. You can get out at the stop at Russell and MacArthur Road. Walk north for a long block to Beverley Drive, which will be on your left. The north entrance to the park is on Beverley Drive, one block from Russell Road. Bus 104 will take you to a stop at Cameron Mills Road and Monticello Boulevard. Walk east on Montcello Boulevard for two blocks until you reach Old Dominion Boulevard, which will be on your left. The south entrance to the park will be less than a block away on your right -- look for the small brown sign that says "NATIVE PLANT CONSERVATION ZONE". On the Dashbus website, you can view DASH schedules for the 103 bus and the 104 bus. You can also plan your trip by using the website of the Washington Metropolitan Area Transit Authority.
Virtual Tour of the Park
Take a Virtual Tour of Monticello Park through photos and path descriptions. The map below shows the entrances, paths, trails, and some of the landmarks mentioned in the Virtual Tour. The blue line between the East and West Stream Paths is the stream. A list of the abbreviations is below the map. The blue squares along Russell Road on the right side of the map are bus stops.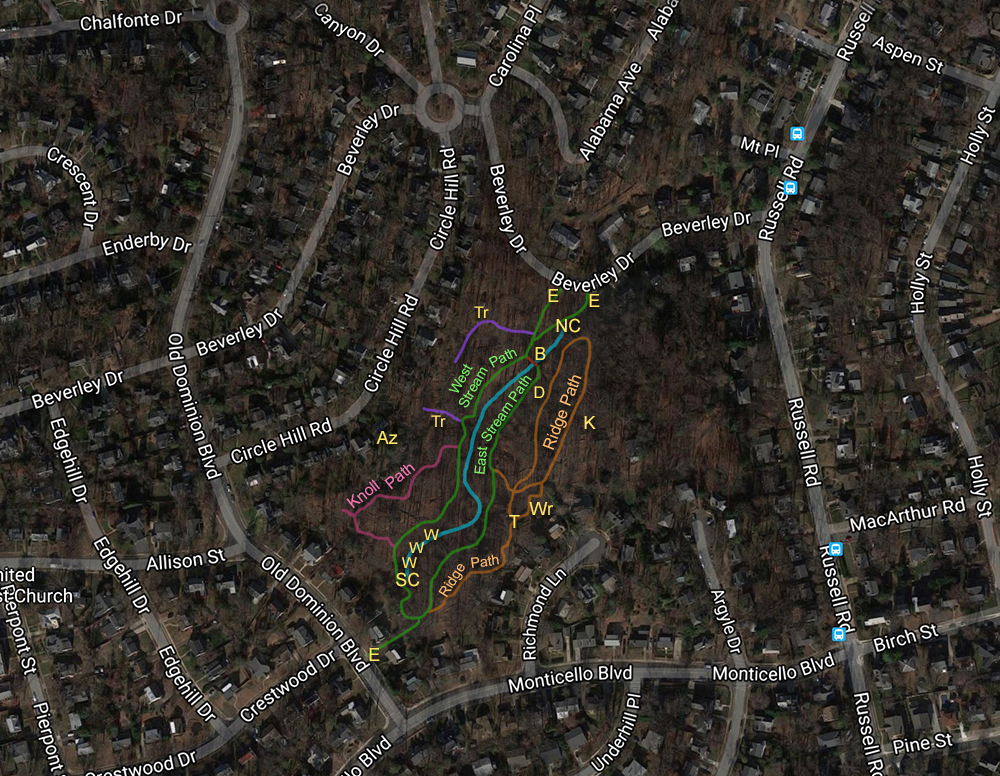 Abbreviations
E - Entrance
B - Bridge
Az - Azalea House
D - Dog Exercise Area
K - Kust Property
NC- North Culvert
SC - South Culvert
T - T-Junction on Ridge Path
Tr - Trail
Wr - Wren Box House
W - Weir